Video Poker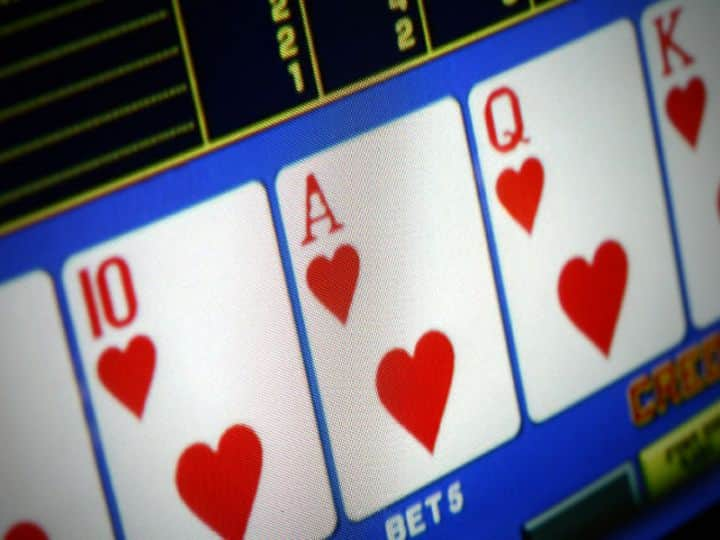 Unlike many casino games whose origins extend back hundreds of years, video poker is a somewhat new type of game that combines many different factors to create a game—or genre of games—like no other.
Like poker, video poker involves skill and critical thinking. Unlike blackjack or other pure, luck-based games, video poker necessitates a bit of skill in order for you to make any sort of extended run.
Video poker works in such a way that you can participate completely and totally alone. With just you and the screen in front of you, video poker lends itself to those who may not have the patience to deal with 5 other people at a traditional poker table. This is one of the biggest takeaways that set it apart from "regular" poker at a live table.
Finally, arguably the biggest draw to video poker is the allure of hitting large jackpots. While this is true of almost any and every casino game, video poker is unique in that it isn't as impossible to walk away with large winnings like it can be, at times, with slot games. A lot of this has to do with the somewhat low house edge you will find on most of these games.
How it Works
As was mentioned before, the term "video poker" is used to describe more than just one type of game. So, while the following rules will give you a rough outline for how video poker functions, understand that each and every game is unique and may feature slight variations to the following framework.
Almost every video poker game utilizes only one 52-card deck. If it is a game involving jokes or wild cards, naturally the 52 may end up being more like 56 or 60. Once you decide the amount of money which you would wish to wager, you select the "deal" button and 5 cards will immediately be given to you.
At this point, you pick which cards you would like to keep in your hand and which ones you would like to get rid of. Once again, the number of cards which you keep varies depending on the exact type of video poker being played.
When you have discarded your selected cards, the game will populate the empty space with randomly-chosen cards. With the newly inserted cards you will then be able to determine the final value of your hand. The amount of money you win will direct correlate with the value of your final hand.
Popular Types of Video Poker
Jacks or Better
Before introducing you to the New Jersey online casinos that feature video poker, we felt it would be best to first explain how one of the most popular versions functions. Jacks or Better is, by far, the most popular version of video poker and the one you will see people playing whether you are at a casino in Macau, Las Vegas, or an online casino in New Jersey.
For all intents and purposes, Jacks or Better more or less aligns perfectly with the generally framework of video poker described above. After making a wager, a player is then given 5 random cards, of which they may discard a few. Once you have discarded, the now empty spaces will be dealt new cards you will use to complete your 5-card hand.
The payout, or lack thereof, will coincide perfectly with the value of your hand. This means that if you have only a single pair, the amount of money you are paid out will pale in comparison to something like a straight, or flush, or straight flush. In addition, the amount of money which you are paid at also depends upon the amount of money which you wagered.
All things considered, however, you will be hard-pressed to find any casino game that has a house edge as small as what you will find with Jacks or Better.
[Pictured, sample "Jacks or Better" V.P. game at a notable online casino]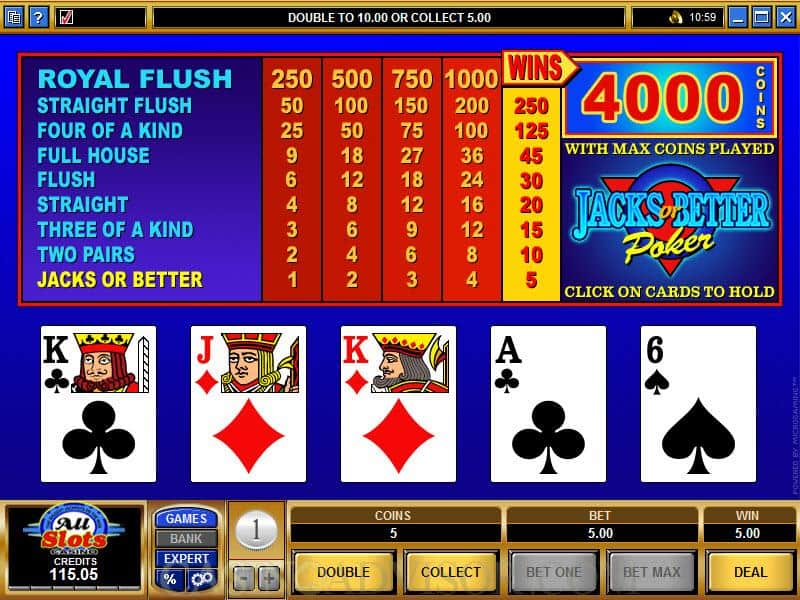 Top New Jersey Video Poker Casinos
New Jersey online casinos are truthfully some of the newest to the casino scene in general. With that said, you might be led to believe that the selection of games is nothing special. With that said, almost every New Jersey online casino offers table games. Below, however, we will highlight a few of the absolute best New Jersey sites and what makes them so much better than their competition.
Many of the big names in the New Jersey online casino industry are identical to the big names lining the Atlantic City coastline. Golden Nugget fits this description perfectly, and is quite honestly one of the best online New Jersey casinos for video poker. With more than 20 games available, you are sure to find at least one game that suits your gambling needs.
Caesars Casino is another name that rightfully might ring a few bells. They too offer a selection of video poker games that numbers in the 20s, ranging from the most popular titles to ones you may not be familiar with. What's more, with Caesar's being a well-known and well-respected brick and mortar casino, you know that their online video poker games will be of the highest quality as well.
Beyond these two sites, there are very few New Jersey online casinos that offer a wide selection of video poker games. Though most every online casino does offer this gaming experience, we have not seen such a huge emphasis on making video poker games a focal point of the overall game offering. Perhaps this is something that will change with time.