Trump Taj Mahal Closes, Property Future Uncertain
The lights are off and the doors are locked at Atlantic City's Trump Taj Mahal, the fifth casino property to close its doors in the past three years.  The casino's closure, ordered by current owner Carl Icahn as his "final solution" to long-running labor strife, might not be as absolute as it seems.  Rumors abound that Icahn may attempt to re-open the facility next spring as a non-union business, and New Jersey state legislatures have responded by introducing a measure that would effectively force Icahn to surrender the Taj's operating license back to the state.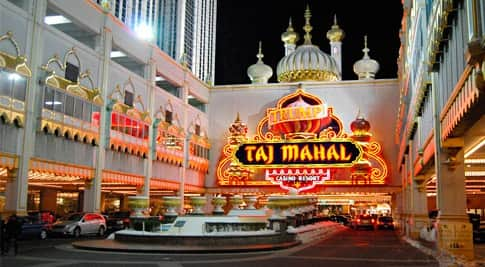 The Taj Mahal's decline is one of the sadder stories amid Atlantic City's decades-long slide.  Construction first began in the late '80s, and original development failed, until current Presidential nominee Donald Trump grew enamored of the project in 1990 and purchased it, allowing construction to be completed and for the casino to be part of his personal-brand empire.  Trump paid $600 million for the Taj Mahal project, but proved to be a disastrous owner, and the Taj was put into bankruptcy — for the first time — in 1991.
Though Trump's creditors allowed him a path to work out of that bankruptcy filing, Trump lost hundreds of millions of dollars on the Taj Mahal and his two other Atlantic City casino properties, collectively the main part of the $900-million-plus operating loss Trump claimed on his 1995 taxes, which were recently leaked amid the sad US Presidential campaign.  Almost unstated among Trump's other issues was how unusual those casino losses were: Trump lost — or claimed to lose — those hundreds of millions of dollars during years when all the other Atlantic City casino properties were making as much or more in profits.
It took two decades, but Trump eventually lost the Taj Mahal in a second banruptcy reorganization in 2009, though the property still carried the "Trump" name.  Avenue Capital then ran the property from 2009 to 2014, an era when the city's financial deepened and most of its casinos posted red ink.  Avenue's Taj Mahal entity, Trump Entertainment Resorts, filed for bankruptcy in 2014, making it the third time in 25 years the casino had sought such protection.
This time, Carl Icahn stepped in, vowing cost-cutting measures.  Icahn, who owns two other Atlantic City properties, sunk $350 million into the again Taj Mahal while entering protracted battles with the casino's labor force, ultimately stripping them of many existing secondary benefits while keeping the casino open.  The casino's union fought back, refusing to sign away those benefits in a new contract, and Icahn's response to that, first announced in August, has now been realized with the locking of the Taj Mahal's doors.
It's interesting to note, however, that the Taj Mahal saga might not be complete.  Rumors abound that Icahn plans to leave the property closed through the winter slow season, then hire a non-union workforce and reopen the property next summer.  Those plans also include a possible rebranding and renovation of the old Taj Mahal.  The recent closure threw 3,000 casino employees out of work; projections are that Icahn would atempt to hire 2,500 different, lower-paid workers under the new plan.
But such blatant efforts at union-busting have run afoul of New Jersey's pro-gaming state legislators, who believe Icahn plans to reopen the casino, all while sitting on one of the state's coveted casino-operating licenses, rent-free, for the duration.
New Jersey State Senate President Steve Sweeney has just introduced a measure, S-2575, that would amend a whole in current New Jersey law that allows the state's casino owners to hold on to their operating licenses indefinitely.  S-2575 would authorize the state's Division of Gaming Enforcement [DGE] to assure existing license holders meet ongoing standards.
According to S-2575, the aim is to "prevent the manipulation of bankruptcy law and gaming licensing," through the determination of a "substantial closure," as Icahn has done with the Trump Taj Mahal. The bill would also be retroactive to January 1, 2016, but would not apply to other casino licenses, so Icahn can continue to operate and conduct labor negotiations at his other Atlantic City properties.
"Labor disputes happen and usually get resolved one way or another," said Sweeney, in announcing the bill. "But casino owners shouldn't be able to misuse bankruptcy laws and gaming regulations in order to warehouse a license or take money out of the pockets of casino workers and strip them of benefits simply because they refuse to come to a labor agreement with their employees."