Sugarhouse Online Casino Aims for North New Jersey Gamblers
Though still in its early-development stages, the budding New Jersey online gambling market is already showing some signs of differentiation.  Case in point: The recent approval and live entry into the NJ online market of Philadelphia, Pennsylvania's Sugarhouse Casino.
The new site (at PlaySugarhouse.com) is the 20th official entry into the New Jersey market, and it's the third by an out-of-state interloper seeking to capture a share of the new New Jersey market.
More to the point, it's perhaps the clearest example yet of some of the segmented marketing that's likely to increase in the future New Jersey market.  PlaySugarhouse.com is very much marketing itself as a Philadelphia-based casino, with plenty of invites on the new site to come play live at the Philly brick-and-mortar venue.  However, as one duly notes, one can only play for real money on the site if one isn't in Philadelphia, as in, either being a New Jersey resident or being a visitor who's physically there.  Geolocation services these days are accurate and effective.
There's also very little mention of the New Jersey partner of Sugarhouse and its parent, Rush Street Gaming, on the PlaySugarhouse site.  That erstwhile and legally necessary partner is the Golden Nugget of Atlantic City.  All online casinos licensed for business in New Jersey have to feature, s a primary licensee, one of the state's handful of land-based Atlantic City casinos.  So that means Sugarhouse has to partner with such an AC casino or not market itself to northern New Jersey residents.  In this case, it appears that Golden Nugget AC will pocket a licensing fee while having, for lack of a better phrase, the legal minimum of actual involvement in the operation of the site.
It also turns out that the differentiation that Sugarhouse seems to be targeting with its new offering is very real.  A few weeks ago, Rutgers University gaming researchers, working in conjunction with the DGE, released the latest edition of their annual report on the new New Jersey online gaming market.  Each yearly report has been chock full of statistical analyses of New Jersey's online gamblers, and the 2016 edition is no exception.
One might expect that in New Jersey, the greatest percentage of online gamblers hail from the Atlantic City region, compared to other parts of the state.  And if you expected that, you'd be wrong.  By far the heaviest interest in New Jersey's online gambling sites has come from the state's norther areas, those that are part of the New York-to-Philadelphia metroplex.  Here's how the Rutgers study presents it, in a visual sense: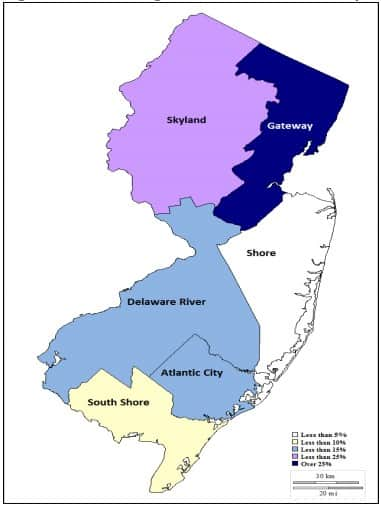 Those numbers at the lower right are a wee bit tiny for reading purposes, and show rough ranges only, but the actual numbers show a dramatic difference in market penetration for online gambling in New Jersey's various regions.  On a per-capita basis, here's how those above-mapped areas translate into real market-penetration percentages:
Gateway — 9.89%
Shore — 4.52%
Delaware River — 4.23%
Skyland — 2.90%
Greater Atlantic City — 1.05%
Southern Shore — 0.60%
While a little bit of the difference can be attributed to out-of-state visitors partaking of the online sites while physically in New Jersey, the majority of the wide range above is very real.  A Gateway-based New Jersey resident is indeed 12 to 15 times more likely to have wagered on one of New Jersey's officially regulated online sites.
Such a vast difference cannot represent a true difference in gambling beliefs or attitudes.  Instead, it has to be partly, perhaps mostly, a story of market awareness.  And because of that one can see that there is plenty of room for future growth in the New Jersey market.
Now let's take that above map and add in the location of the Sugarhouse casino, which sits just across the Delaware River from southwestern New Jersey.  It's that little red dot, lower and left-er: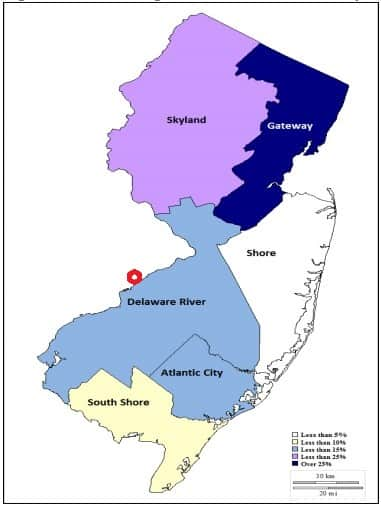 If you think about regional market awareness, that map alone shows why Sugarhouse is very interested in opening a site that caters to New Jersey players, even if the Sugarhouse casino itself isn't actually in New Jersey.  The nub of eastern Pennsylvania that includes Philadelphia's juts into southwestern New Jersey, and a good chunk of that part of New Jersey is both best described as suburban Philadelphia and a ripe target for Sugarhouse's online marketing plans.
And that's why PlaySugarhouse.com exists, and why it might have a greater chance of success than many outsiders might think.