Phil Ivey Counsel Files Protest to Borgata's 'Edge Sorting' Damages Claim
The law firm representing prominent professional gambler and high-stakes poker pro Phil Ivey in a case brought by Atlantic City's Borgata casino has filed a protest against the amount of damages claimed by the Borgata as a result of a rules-breaking "advantage play" scheme enacted by Ivey and a playing companion, "Kelly" Cheung Yin Sun, at the Borgata in 2012.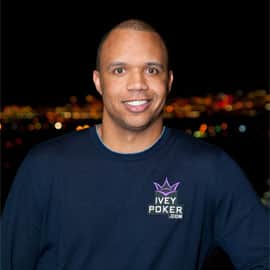 Early last month US Federal Court Judge Noel J. Hillman ruled that Ivey and Sun had breached their implied contract with the Borgata to play the casino's nosebleed mini-baccarat offering. That breach involved the employment of a complicated ruse secretly trained on Sun's acutely trained eyesight, used to identify minute card variations on cards to be used in the game. Via those subtle variations, and through complicated instructions to rotate certain cards, Ivey and Sun were able to gradually manufacture a "first card" advantage that flipped the game's overall odds in their favor.
Ivey, the official player of record, "won" $9.626 million from the casino over the span of four multi-day sessions in 2012. Sun, who was partially backed by another gambler to participate, likely shared in those winnings, and the two admitted employing the same scheme at several other casinos.
The ruling itself was technically a split decision that nonetheless left Ivey and Sun responsible for repaying those "winnings," plus alleged initial damages. Co-defendants Ivey and Sun were found liable on the breach-of-contract claims, but additional claims of fraud and RICO conspiracy (which could have resulted in trebled damages) were tossed out. Nonetheless, as part of Hillman's ruling, the Borgata was directed to file a detailed claim of alleged damages.
The Borgata's claim came in not at $9.626 million, but at more than $15.5 million. Added to the actual gaming losses sustained by the Borgata were such things as lavish player comps extended to Ivey and Sun, and a winning streak at the crap tables on visit by Ivey (for about a half million), which the Borgata claims was bankrolled by Ivey's illicit mini-baccarat profits. And, for more than $5 million alone, a claim of "expectation damages" by the Borg based on all the hands the casino dealt to Ivey and the high stakes – up to $100,000 per hand – that were being played. The shift in odds engineered by Ivey and Sun transformed what was roughly a 1% casino edge into something like a 6% edge for Ivey, over the course of play.
Ivey's and Sun's attorney, Louis M. Barbone, filed an official protest on Tuesday, asking for, among other things, that the damages be tossed to a petit jury… and thus out of Judge Hillman's hands.  Though it's not explicitly stated, Hillman presumably might be more favorable to the Borgata's interpretation of damages rather than Ivey's and Sun's reiterated "no damages" claims, since he has already ruled in favor of the Borgata on the breach-of-contract allegations.
The legal arguments as claimed by Barbone:
The damage formula of "Golden Nugget" [referring to an earlier New Jersey case] is completely inapplicable to a breach of contract claim. [This has to do with calculating damages based on the expected odds of the game; it's introduced here as part of a claim that because each hand includes random chance, that the overall odds of the session cannot truly be aggregated, and thus assessed for damages];
Contract damages are not assumed by virtue of a breach; plaintiff maintains the burden to prove that it has suffered damages as "the probable result of the breach" and to a reasonable certainty;
Alternatively, plaintiff's proof of damages is a genuine question of material fact that must be tried to a petit jury.
To be frank, there's a whole of the ol' "throw a lot of shit at the wall and see what sticks" in this latest filing. Despite Ivey and Sun having admitted to the scheme and walking out the door, over time, with over $9.6 million, their attorney reiterates the "no damages" theme while continuing to dispute Hillman's findings and attempting, in large part, to re-litigate the case.
Perhaps no part of the filing is more comical than the claim that Ivey and Sun didn't actually breach the implied contract of cause damages because they won less than half of all played hands, and thus did not win a "preponderance" of the hands played. Barbone cited detailed stats assembled by the Borgata showing that over Ivey's four lengthy mini-baccarat sessions, he won 864 hands, lost 822, and tied 164.
And therein lies the mathematical "lie" of this claim: In mini-baccarat, if one is betting "player" or "banker" – as Ivey always did – than a tie doesn't count; it's a push. It's a nullified bet, and for the purposes of calculating odds, such hands simply do not count. Ivey indeed won more than half of the hands in which a real outcome was obtained, almost precisely in the percentages claimed within the Borgata's damage analysis.
Counsel for the Borgata, for its part, immediately filed a request with Hillman's court to submit a brief addressing some of the claims in Barbone's protest of damages. That letter, if accepted, will almost certainly deal with the points mentioned above, plus several others. The Borg's attorneys have asked to be allowed to submit that response by December 9th.