NJ Pols Pallone, LoBiondo Reintroduce US Federal Sports Betting Bills
US Congressmen Frank A. LoBiondo (NJ-02) and Frank Pallone, Jr. (NJ-06) have taken advantage of the extra attention paid to the NFL and (underground) sports betting in this pre-Super Bowl week to re-introduce federal legislation that would legalize sports betting across the US.  LoBiondo's and Pallone's bills take separate roads in attempting to allow legal sports betting opportunities, on a state-by-state-basis across the US.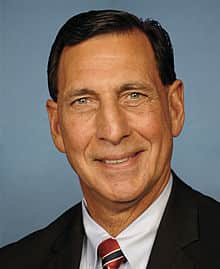 LoBiondo's bill would effectively create a temporary loophole in the US's hated PASPA (Professional and Amateur Sports Protection Act), the law that has blocked individual states other than grandfathered Nevada from offering single-event wagering for more than a decade.  Pallone's bill, when officially published, instead will attempt to exempt New Jersey from PASPA's current reach.
According to a draft of the LoBiondo bill published at LegalSportsReport, its purpose is again to create a four-year window through which individual US states can reconsider whether or not each state can legalize and regulate sports betting within its borders.  (New Jersey has already voted to allow such wagering, but remains blocked at the federal level by PASPA.)  The law would re-open a window for state-level approval of sports betting that existed (albeit only for a single year) when the original PASPA was signed into law back in 1992.  The text of the bill is nearly identical to the HR 416 (114th Congress) measure LoBiondo introduced in late January of 2015.  Pallone's bill will likely be based on his 2015 submission in the same session of Congress, HR 457.
Pallone and LoBiondo have been down this road before.  The two introduced separate measures back in 2015 that would have effectively accomplished the same goal, although those bills involved a general repeal of PASPA rather than introducing a temporary, four-year extension.  Those bills were assigned to a House committee (Crime, Terrorism, Homeland Security, and Investigations) but died there without a hearing or committee vote.
LoBiondo's latest bill, titled the ''Sports Gaming Opportunity Act of 2017,'' has yet to receive its House nomenclature.  After an official reading in the coming days, it will likely to be assigned to the same House committee that ignored the earlier two bills.  However, the general political will in the US has shifted slightly in favor of a PASPA repeal, meaning there's a small chance these bills could garner additional traction.
The two Congressmen issued a joint statement about this bill's introduction.  Included are quotes from each that cover the same territory first explored two years ago:
"Sports-betting is already happening across our state and across the country, but instead of being appropriately overseen and raising needed revenue for our casinos, racetracks, businesses, and the state, these bets are placed through illegal enterprises," said Congressman Pallone. "It is time to bring this activity out of the shadows. I am pleased to join Congressman LoBiondo in reintroducing these commonsense bills that would level the playing field and give New Jersey's citizens the opportunity to share in the profits from sports betting."

"Each year competition from neighboring states and the proliferation of off-the-books betting grows, leaving Atlantic City's gaming operations at a disadvantage. I strongly believe that sports-betting can help give our famed resort town a hand up, providing yet another unique option for patrons in addition to the quality entertainment, dining, shopping and beaches. I'm pleased Congressman Pallone, our casinos, local elected officials and an overwhelming majority of New Jersey residents agree. Over the years we have made progress on bringing sports-betting to our state and I hope that a bipartisan coalition in Congress can come together in support of legalizing and regulating sports-betting," said Congressman LoBiondo.
NJCasinos.org will update as additional details on the two bills emerge.