Icahn Surrenders Trump Taj Mahal Gambling License, But Keeps Property
Carl Icahn's high-stakes game of real-estate chicken with New Jersey's legislators and gaming officials continued this week with multiple developments concerning Icahn's shuttered Trump Taj Mahal property, which now looks as though it won't be re-opening as a casino — or as anything else — any time soon.  Leading the way, among the latest news, is the surrendering of the Taj's still-active gaming license to state authorities.
Icahn notified the state of his intent to surrender the Taj Mahal license shortly before Christmas, but the application was only published, via New Jersey's Division of Gaming Enforcement [DGE], in recent days.  The surrendering of the license for the property, once owned and operated, haplessly, by US Presdent-elect Donald Trump, will likely end the scuttlebutt that Icahn would be reopening the Taj casino with non-union labor.
As labor officials and Atlantic City's civic leaders are acutely aware, Icahn closed the property in October after bitter and protracted contract talks with one of the casino's union groups collapsed.  The closure appeared to involve a healthy measure of spite, with the casino's roughly 3,000 workers left adrift as the holiday season loomed.  However, Icahn kept open his other Atlantic City property, the Tropicana, despite going through similar labor negotiations.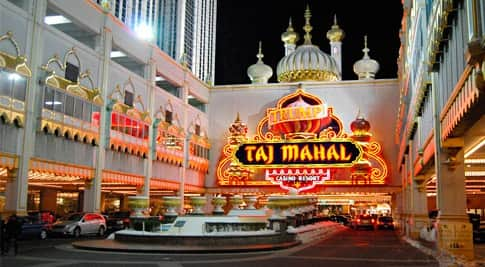 New Jersey's state legislature responded by passing a bill which would ban existing gambling-license holders from re-opening a shuttered casino property for five years after a closure.  That bill, which is both pro-labor and is clearly aimed at Icahn, has passed both houses of New Jersey's state legislature but has yet to be signed or vetoed by NJ Governor Chris Christie.  (Christie has a long track record of waiting until the last legislatively possible day before announcing his actions on bills.)
That looming bill, which was retroactively dated to force Icahn's hand, accomplished exact tht when Icahn applied to surrender the gaming license.  However, in a tit-for-tat move, Icahn has also slapped a deed restriction on the Taj Mahal property.  That restriction precludes any buyer of the casino from conducting gambling on the property, unless they pay the asking price to Icahn to remove the restriction.
One can bet that the asking price to remove the deed restriction will be about $300 million, less whatever the official purchase price for the Taj property, near the north end of the famed Boardwalk, would happen to be.  Icahn has claimed repeatedly that he's sunk that $300 million into the Taj property and has no intentions of selling it at a loss.
Icahn went so far, in a story printed in the Press of Atlantic City, that he'd sell the Taj to AC mayor Don Guardian for that price.  Guardian recently called for Icahn to sell the property to allow the city to move frward with its own redevelopment plans, but Icahn used that as an opportunity to slap at the mayor, stating that Guardian could have done more to assist Icahn in his union-busting efforts… not that such a forced assist would've played very well with city's voters, many thousands of whom work at Atlantic City casinos.
That all leaves the matter as something of a stalemate, at least as long as Icahn keeps on paying his property taxes on the shuttered Taj.  One thing appears certain: Carl Icahn hasn't endeared himself with local or state officials throughout this lengthy Trump Taj Mahal saga.  In a separate AP press report, Icahn is quoted as saying that New Jersey has declared "a war on business" in connection with the bill which forced the Taj's gaming license surrender.  Icahn focused on State Senate leader Steve Sweeney, a prominent union official before he went into public politics.
"When a guy like Sweeney goes after someone who saved the Tropicana and 3,000 jobs when no one else would, who would invest in New Jersey?" Icahn asked, rhetorically, to AP. "The worst thing about New Jersey is they have Sweeney as head of the Senate. The best thing about New Jersey is they didn't make him governor."  Sweeney, though, has proven to be a pro-gaming legislator in many matters, rather than just being pro-labor.
The rancor between Carl Icahn and virtually everyone else in New Jersey shows no signs of easing soon.  Icahn has the money to sit on the empty Taj, while New Jersey possesses the muscle to make his reign therein both miserable and expensive.  In other words, more fireworks seem certain.