Carl Icahn Reaffirms Plans to Sell De-'Trump'ed Taj Mahal Following Bill Veto
Billionaire investor Carl Icahn won't be re-opening Atlantic City's shuttered Trump Taj Mahal any time soon, according to statements from Icahn given to regional outlets.  Icahn's latest Taj-related outburst followed New Jersey Governor Chris Christie's recent veto of a bill that would have barred Icahn from re-opening the casino using non-union labor, a possibility that's loomed after Icahn spitefully closed the casino last October after a protracted labor battle.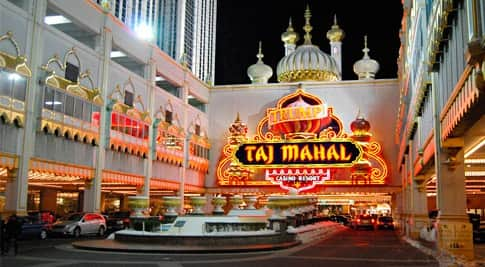 Christie's veto of an Icahn-targeting bill that was passed by large majorities in both houses of New Jersey's legislature didn't end the discord between the casino owner and most of the state's legislators.  That bill, championed by state Senate President Stephen Sweeney, would've barred Icahn from doing precisely what was rumored — reopening the Taj with non-union labor.
Christie blasted Sweeney and the many other NJ pols who voted for the measure, calling it government "at its worst."  The complete text of Christie's veto letter appears at the bottom of the page, wherein Christie repeatedly scolds the NJ legislature for sending him the bill in the first place.  (Whether or note that same scolded legislature attempts to override Trump's veto is a possibility, though perhaps not likely in the current political climate.)
Icahn took his own swipes at Sen. Sweeney as well.  "Unfortunately," said Icahn last week, "as far as I'm concerned, Sweeney has already done irrevocable damage to Atlantic City specifically and New Jersey in general.  After his irresponsible actions, we determined that we would not invest the $100 million to $200 million of capital we believed the Taj Mahal needed and that we would instead sell the Taj Mahal at a loss (if possible)."
Icahn has also attempted to obtain deed restrictions which would keep any other prospective owner from operating a casino on the property, near the north end of Atlantic City's famed Boardwalk.  Since Icahn and the Taj have already surrendered the earlier casino license the property once held, it appears the old Taj structure will loom over the Boardwalk as an emptied, white elephant for quite some time.
Speaking of the Taj and of elephants, the property did undergo a change earlier today: All of the "Trump" signs that formerly preceded the words "Taj Mahal" have been removed.  Trump did own the property (and others in Atlantic City) for quite some time, and had previously tried to have the "Trump" name removed from the property.  Today, Icahn has granted Trump's long-standing wish, which in a way is appeasing the boss; Icahn was recently named as a special advisor within the comical Trump Administration, assisting with the Trump oligarchy's plans to remove federal regulations that formerly served to control the country's business landscape.
Here's the text of Christie's veto letter of S2575/A4187:
To the Senate:

Pursuant to Article V, Section I, Paragraph 14 of the New Jersey Constitution, I am returning Senate Bill No. 2575 (First Reprint) without my approval.

This bill represents the Legislature at its worst; it is a transparent attempt to punish the owner of the Taj Mahal casino for making the business decision to close its doors after its union employees went on strike and refused to negotiate in good faith. Blatantly kowtowing to their union patrons, the supporters of this bill would preclude any applicant who closed a casino hotel facility in New Jersey on or after January 1, 2016 – in other words, the owner of the Taj Mahal – from obtaining a casino license for five years. Similarly, the bill would mandate that the licensee forfeit its existing license for that facility for five years. However, betraying the utter cynicism of the Legislature in passing this bill, if a labor dispute caused the casino hotel's closure and that labor dispute is thereafter resolved, the applicant would again become eligible for a casino license and the revoked license may be reinstated.

This ill-conceived and poorly worded legislation that shamelessly backs one side in a labor dispute between private parties without regard to any legal, practical or collateral consequences far exceeds the scope of acceptable legislation and has no place in our State's laws.

First, it is anathema to good government for the Legislature to enact laws picking winners and losers in private contractual disputes. Certainly, it is an abuse of legislative power to punish lawful, legitimate business decisions or attempt to coerce one party to submit to another's contractual demands. Doing so here is particularly perverse in light of the union's well-documented bad-faith conduct in its labor dispute with the casino owner, as determined by a federal court.

Second, this bill sends a chilling signal to businesses in New Jersey, and those thinking of relocating here, that they must "play ball" with the unions or face retaliation by the Legislature. Such a result is contrary to this Administration's efforts to further economic growth and development in the State and is therefore unacceptable.

Third, although five casinos have closed in recent years, this bill only seeks to punish the one casino that closed within this past year after a well-publicized dispute with its employee unions. I am significantly concerned that the bill's retroactive punishment for conduct that was lawful at the time it was committed, as well as its singular focus on punishing only the Taj Mahal's owner, potentially violates the federal and New Jersey constitutions' prohibitions against ex post facto laws and bills of attainder.

Fourth, this bill may adversely impact Atlantic City's recovery. Immediately following this bill's final passage, the Taj Mahal's owner filed a deed restriction on the property that effectively removed the casino from PILOT program implemented by last year's Casino Property Tax Stabilization Act. As a result, Atlantic City may receive significantly less revenue than contemplated by that law.

The Legislature's passage of this bill is incomprehensible. It does not save jobs and does not prevent another party from obtaining ownership of the Taj Mahal and opening it with non-union labor. It is a disservice to this State's citizens generally and the union's employees specifically, and an affront to responsible government.

In sum, other than the potential harm inflicted upon Atlantic City's nascent recovery efforts; the punishment of a business owner for exercising its judgment to cut its losses by closing its doors and the horrible signal that sends to the business community; and allowing its supporters to falsely and misguidedly trumpet a "victory" for labor over business, this bill does nothing except confirm that New Jersey's unions, and the members of the Legislature who blindly do their bidding, remain among the most destructive forces and significant obstacles to economic growth in this State.

Accordingly, I am returning Senate Bill No. 2575 (First Reprint) without my approval.

Respectfully,

Chris Christie
Governor