Borgata Seeks Over $15 Million from Phil Ivey, Co-Defendant in Edge-Sorting Case
Less than two weeks after famed professional gambler and 10-time World Series of Poker bracelet winner Phil Ivey, and co-defendant Cheung Yin "Kelly" Sun, were found civilly liable on breach-of-contract claims made by Atlantic City's Borgata Hotel Casino & Spa, counsel for the Borgata has filed, per the presiding judge's request, a total damages claim of more than $15.5 million.
The court filing and related appendices, obtained by NJCasinos.org, add nearly $6 million in claimed damages to the actual amount won by Ivey (the official player of record) and Sun, during the pair's four 2012 visits to the Borgata.  The pair willingly admitted that they had employed a complicated ruse to enable an "edge sorting" scheme that shifted the odds of the Borgata's high-stakes mini-baccarat game significantly in Ivey's favor.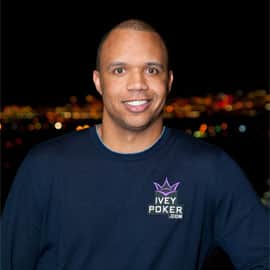 Ivey"s "win" (as it's hard to describe it otherwise or without scare quotes, given the still-unfolding legal battle), amounted to $9.626 million, spread over four different multi-day visits to the Borgata by the pair in April, May, July, and October of 2012.  The October session ended abruptly when news broke regarding Ivey and Sun's involvement in a similar scheme at London's Crockfords Casino.  (In that affair, Crockfords refused to pay Ivey his winnings after suspecting something was amiss.  Ivey subsequently sued, and to date has lost both the initial UK judgment and an initial appeal.)
The amount asked for in total by the Borgata, $15,548,311.40, includes both actual restitution for claimed gambling losses and an additional amount, termed "expectation damages," that the Borgata believes it would have won had the mini-baccarat games run according to the stated house odds.
Mini-baccarat, a version of baccarat in which the bettors do not touch the cards, but can instead bet on "Player" or "Bettor" outcomes, carries a house edge of a little over 1%.  US District Judge Noel J. Hillman ruled in favor of the Borgata because, in his words, the edge-sorting scheme changed the game to something other that mini-baccarat, a known no-skill game with that predetermined house edge.  Only the unaffected, scheme-free version of mini-baccarat, wrote Hillman, was legal under New Jersey gaming law.
As bad as the $15.5 million judgment might seem for Ivey and his partners, including a high-stakes Georgia gambler who backed Sun's participation in the scheme, it could have been much worse.  Had Judge Hillman not ruled in Ivey and Sun's favor on additional Borgata claims of fraud and RICO violations, the damages could have been tripled, when and if finally confirmed.  The statement of claimed damages filed by the Borgata also fails to include any request for interest or legal fees.
Ivey and Sun have yet to notify Hillman's court of plans to appeal the initial decision.  That possible next step for the case is due before the end of this month, and would delay any final adjudication of damages.
A breakdown of the damages claimed by the Borgata also casts some light on the extravagant perks showered by casinos on such high-rolling gambling whales as Ivey.  Lumped in with the "expectation damages" sought by the casino is just shy of a quarter million dollars of casino comps and perks showered upon and/or requested by Ivey and Sun during their visits.  Sample items shown in several sheets of a line-item breakdown filed by the Borgata include: limo service and (on one occasion) air fare; dozens of meals at the Borgata's priciest restaurants, many room-delivered; tens of thousands of dollars in private bottle service and related bar tabs, and much more.
The much larger part of the "expected damages" portion of the claim, however, about $5 million, is based on the difference between what Ivey "won" at the game and what the normal, probabilistic outcome should have been, had the game actual run with the normal house-favoring odds.  Ivey, with Sun as his companion/assistant, played some 8,618 hands of mini-baccarat during those four 2012 visits, at an average bet of more than $56,000 per hand.
The casino is also seeking $504,000 won by Ivey at the Borgata during his July 2012 visit, under the position that Ivey's winnings there came from money he'd won at the mini-baccarat tables.  Such "fruit of the poisoned tree" is often targeted in such a clawback, and at least one previous New jersey gambling decision cited by the Borgata supports that claim.
In any event, the decisions in the Borgata and Crockfords cases are likely to have a chilling effect on other gamblers seeking to employ a similar scheme.  Another part of the case, involving a separate co-defendant Gemaco, remains unresolved.  Gemaco produced the cards that were exploited within Ivey and Sun's scheme, though Gemaco has continued to argue that the cards the company supplied were within accepted industry standards.