Online Casinos in NJ for iPhone/iPad Users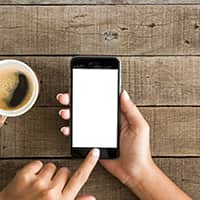 You cannot walk down the street nowadays without someone, or many people, proudly displaying their iPhones. As one of the most popular mobile devices around, iPhones – and now of course, iPads – have become an integral part of daily life for many millions of people. When New Jersey moved to establish an intrastate network of online casinos, iPhone owners instantly wondered if their mobile devices would be able to facilitate gambling on the go. Initially, iPhone users, and users of mostly any other mobile device, were simply out of luck.
Before long, however New Jersey online casinos began offering games and gaming platforms that made it easy for you to play on your iPhone. At first, these casinos existed and functioned within the browser of your phone, but after some time dedicated, downloadable apps became more commonplace. Nowadays, just about every New Jersey online casino offers some sort of mobile gaming option. In fact, you will find that most of these sites do, in fact, offer downloadable apps that are available free of charge via the app store.
While there are plenty of online casino apps available to residents of New Jersey, some are definitely better than others. The following few sections will highlight **3 of the best online casinos for iPhone/iPad users.
** this page is continuously updated to reflect changes in overall ratings and to ensure each casino meets our standards and criteria.
Best NJ Online Casinos for iPhone
888 Casino

888 Casino NJ is a name people who have any amount of familiarity with online casinos know well. The fact of the matter is that this brand has been around for a lot longer than legalized online gambling in New Jersey has, and they really know what they are doing. 888's iPhone app is able to be downloaded directly from the App store for free.
Once you have downloaded the application and have logged into your account, hundreds of games are available to you immediately. Slots dominate the mobile offering of 888 Casino, however there are far more than slot games able to be played via the app. If you don't already have an 888 account, you are able to create one directly from the app. In theory, you never even need to play at 888 from a computer.
This adds to the ease of use for players and ensures that the app functions as it is supposed to—seamlessly. Further enhancing the player experience is the fact that sign-up bonuses and a plethora of other promotions are also available via the 888 app.
Tropicana Casino

Tropicana is a name most often associated with brick and mortar gambling, but ever since New Jersey legalized online casino play for real money they have made a name for themselves there as well. While their online casino offering in general is great, their iPhone application is just as good, if not even better.
Gamesys is behind the software powering Tropicana. This is a great name to be associated with seeing as they have been in business for some time and are held in high-regard amongst players from all over the world. The actual Tropicana mobile application is available for download from the App store free of charge.
The most pressing issue with regard to this mobile casino application is the game selection available. Naturally, there exist a plethora of slot games that are able to be played from your iPhone, but other games are included as well. Roulette, video poker, blackjack, and so many other casino games are all available via the Tropicana app.
Something worth mentioning is that the same people who created the Tropicana iPhone app also created the app for Virgin Casino's mobile platform. So if you like what Tropicana has to offer, you will probably enjoy Virgin's offering as well.
Harrah's Casino

Like Tropicana, Harrah's is a name you most often associate with brick and mortar gambling. While this is true, they too have recently gotten involved in New Jersey budding online casino industry. In addition to ther great desktop site, they have recently released a mobile app that is available on the App market. The app itself does not cost anything and takes a total of a few seconds in order to download.
Once you have it downloaded, you are able to play the full range of slot and blackjack games offered by Harrah's. Of course, we would like to see the overall offering of games expanded to include every type of casino game, but for now this is more than acceptable. To be fair, Harrah's online site mostly offers slot games, so the lack of selection on their app makes sense.
The lack of games is made up for by the high functionality of the app itself. While other mobile real money casino apps are loaded down with games—thus making the interface laggy and apt to freezing—Harrah's ensures that you will never have to experience technical problems while on their app.
Final Thoughts
As far as iPhone casinos are concerned, those that exist in New Jersey are world class. Apart from the three mentioned above, there are a handful of other real money casino apps available for residents of New Jersey. While all of the apps themselves function well enough, it comes down to game selection. If you are a slots player and tend to not stray away from those types of games, then Harrah's may be a perfect option for you. If, on the other hand, you don't stick to just one game, maybe a site like Virgin, Tropicana, or 888 will appeal to you.
Choosing the absolute best iPhone casino is tough, because it always comes down to the personal preference of whoever is making the choice. With that said, the three aforementioned casinos are great for far more reasons than those mentioned, and for that reason we recommend them just a bit more than most.