NJ Android Casinos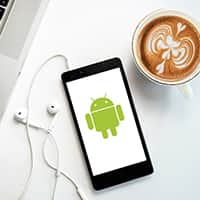 Real money online casinos have been around for well over a decade now, and though that may not seem like entirely too long of a time period, a lot has happened in the last 10-15 years. One of the biggest advances was the advent of mobile games, or casino games that  can be played on the go and not necessarily on a computer/laptop. Leading the way when it comes to mobile casinos is Android, one of the world's largest and most well-known producers of cell phone/tablet technology.
The functionality of Android, and the Apps that are run by it, is beyond compare. This means that your mobile gaming experience will rival the experience you derive from playing casino games on your computer. In New Jersey, Android devices make gambling on the go as easy as it can possibly be. Most every licensed New Jersey online casino offers a mobile gaming option, and though they are all similar, no two are the same. In the following few sections we will work on elaborating just what makes Android mobile casinos so great. We will even highlight some of the top New Jersey Android mobile casinos.
Best NJ Online Casinos for Android
Virgin Casino
You may know the name Virgin from the company's dealing with the airline and cellphone industries, but you might not have known that they were also involved in the online casino business. Believe it or not, Virgin is much more than simply involved in the online casino industry, seeing as they have one of the best mobile gaming options for New Jersey residents.
Their mobile casino exists as a standalone app that can be downloaded, for free, directly from the casino itself. Their casino app features more than 100 different games and software from at least 3 different providers. Virgin's software providers include IGT, High 5 Games, and NetEnt.
Players are able to utilize Virgin's mobile games without having to download the application, however, only trial versions of games can be played in this manner. In order to play real money casino games you must download the app from the Play Store.
>> Receive your $10 FREE casino chip and added slots spins when you register today.
Golden Nugget Casino
Golden Nugget is a name familiar to just about anyone who has ever been to Atlantic City. This longstanding brick and mortar casino got into the online industry a few years ago and has really not looked back since then. Among many other things, Golden Nugget is known for its highly functional, easy to use mobile application. For ease of use, the application is available for download directly from the casino site itself. The download itself takes only a few seconds and whether you have an account or not, you can begin playing right away.
Golden Nugget even allows people to sign up and create a player account directly from your mobile device. With more than 200 games and a first deposit bonus that sees you able to earn up to $1,000 in bonus money, there are few other New Jersey online casinos that can compete with what Golden Nugget has to offer.
>> Sign up a new Golden Nugget account and receive a 100% bonus up to $1,000
Betfair Casino
Betfair, unlike the two casinos mentioned above, has a worldwide presence and has been in the online casino business for some time now. They are one of the most trusted mobile casinos and have loads of experience, making them great to deal with in almost every aspect. Their app is available for free download as well.
While the experience players derive from Betfair is top-notch, there are a few downsides to their mobile casino offering. For one, there are a few less than 50 games available at a time. This is not the worst thing in the world, but with an app size of more than 70MB, it's perplexing that only 40 games are available. Still, the overall look and feel of the app is much better than most, and that is why it takes up so much space on your phone/tablet.
>> Claim your FREE $10 just for registering a new account at Betfair
Final Thoughts
The biggest comparison, and biggest point of contention when it comes to mobile real money casinos is whether Apple or Android mobile casinos are superior. While this is mostly a subjective matter, we can say with confidence that Android-powered online casino applications are a bit more advanced and are flat-out easier to use. Over time we imagine that the two providers will become more evenly matched, but for now Android has the edge in number of casinos offered as well as the experience you get from those casinos.
Though we only touched on 3 New Jersey Android casinos, rest-assured knowing that there are plenty of others listed here on the site – some of which are located to the right side of this page. As was mentioned before, all of these mobile casinos are created differently and no two offer the same exact experience. So while you may hate all 3 of the sites mentioned above, this does not mean you should count out mobile casino play via Android. Check out all there is to see across the industry and you will be pleasantly surprised with how many great sites exist.