Live Dealer NJ Online Casinos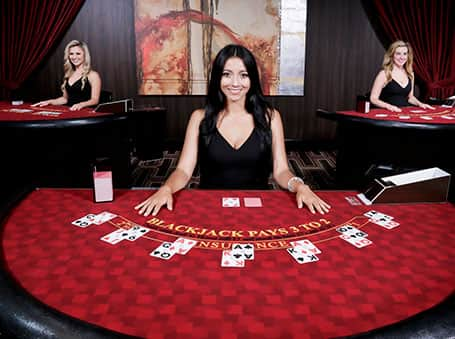 Casino games have been around for hundreds of years, but it wasn't until fairly recently when they became more prominent and, in many ways, an integral part of daily life for so many people.
Even more recently, online casinos came to be and that altered entirely the way in which people were able to gamble. No longer did people have to go on long trips to their local brick and mortar casino, because just about every type of casino game under the sun was available to them by way of their household computer.
Though the online casino industry itself revolutionized the gambling industry as a whole, this new industry has brought with it some innovations that could have never been fathomed. One of those innovations is the existence of live dealer pay. Put simply, live dealer games are a perfect combination of the experience you get at a brick and mortar casino and what you get from online casinos.
Now, you are able to play just about every casino game from in front of a computer screen, but instead of an automated dealer without a face, you are seeing cards dealt and wheels spun by real, live human beings. The experience is so realistic that the dealers will even interact with the players that are playing. In the following few sections, we will discuss a bit more about what constitutes live dealer play and why you might be interested in trying it out.
How Live Dealer Games Work
As was touched upon before, live dealer play allows you to play all of your favorite real money casino games online but with the use of a dealer that exists in real life and can be interacted with. So, with blackjack, for example, you will choose a table at which you would like to sit down to begin play. Once you are directed to the table, you will be viewing a live-stream of what looks like a brick and mortar casino. Instead of a computer-generated table sitting in front of you, you will be looking at a real felt table equipped with real card-shuffling devices, chips, and cards. In addition, a dealer will be tending to the table much like what you would expect at a traditional casino.
Once play begins, live dealer blackjack works in much the same way as traditional online blackjack. You place wagers, choose to hit or stand, and cards are flipped and placed in front of you accordingly. When the result of the hand is determined, the dealer will explain whether you have won, lost or pushed. If you have any questions regarding how a hand played out or anything else, a chat bar will allow you to type your questions to the dealer who will read and respond as they see fit.
Something you will notice about live dealer play is that it is much slower than traditional online casino play. When it comes to traditional online blackjack, you can execute hand after hand after hand with little to no break in between. With live dealers, the pace of play is slower simply because of the human element involved. It is a truly interesting mix of traditional online casino play and the type of play you will find in a brick and mortar casino.
Why Play Live Dealer Games?
Some people might be wondering what the point of live dealer play is. After all, if you want to deal with human dealers you can just fly or drive to the nearest casino. While this is true, live dealer casino games afford you peace of mind that traditional online casino games simply cannot give. Even though every casino ensures that their games are randomized (ie. Cards are shuffled and not dealt in any discernable order), many people still have a very difficult time trusting that the online casino in question is not simply setting up games so that the casino wins more often than it loses.
With live dealers, however, you can see the cards being shuffled and dealt. This really eliminates a lot of the behind-the-scenes mystery that so many people fear with traditional online casino games. As opposed to simply trusting an online random number generator, you can actually see the cards being shuffled in front of you when you play blackjack. This also applies to other popular table games.
Think about roulette, for example. At a typical online casino, a computer-generated ball is spun on a computer-generated wheel and ends up sitting in a certain slot. Though the site in question guarantees that the outcome of these spins is always 100% random, how do you know that they aren't simply pulling strings such that the ball never lands in a position that sees you win your wager. With live dealer roulette, however, a real, live person takes a tangible ball and spins it around the wheel. You can see the ball bouncing around and ultimately end up in its final resting space. In essence, you are getting the exact experience online as you would at a brick and mortar casino.
We have said time and time again that, so long as you are playing at a reputable site, you have nothing to worry about with regard to the legitimacy of the games and their outcomes. Despite this, there are still so many people who have their doubts with regard to the legitimacy of the games, and live dealer games do a good job of taking away most, if not all, of that doubt.
New Jersey Online Casinos with Live Dealer Games
When it comes to New Jersey online casinos, there are plenty who offer live dealer play. In fact, because many of the online casinos that exist in the New Jersey network also boast brick and mortar sites, the live dealer feed you see will be coming directly from the floor of their own casino.
As far as what games are offered, there are quite a few, but the two most popular are blackjack and roulette. As the industry grows, the number of live dealer options will too.