Paypal in NJ

Though you may have heard of PayPal before, there are few people who know very much at all about what the company does or why it came to be. In fact, the company we now know as PayPal was originally founded under the name 'Confinity' in 1998 and worked to create security for small devices such as beepers and cell phones. Out of Confinity came the money transferring entity we now know as PayPal.
In 2000, two years after Confinity was founded, it merged with X.com, a budding internet banking company. A significant name from X.com is that one of its founders was the entrepreneurial giant Elon Musk. Within a year, X.com and Musk's founders parted ways and the name X.com became Paypal. In 2002, PayPal went public and within a very short period of time was purchased by eBay. All that is fine and good, but you probably want to know more about PayPal as it relates to New Jersey online casinos.
When it comes down to it, PayPal is one of the most popular and widely utilized methods of deposit for NJ gamblers today. Below you will find out why that is the case as well as how you can take advantage of PayPal.
Depositing at a New Jersey Online Casino w/ PayPal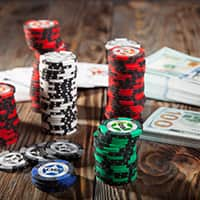 When it comes to making a deposit via PayPal at a New Jersey online casino, the reality is that it is as simple as can be. If you have ever made a purchase of goods or services online with a credit card, it is even simpler and more straightforward than that.
Once you have created an account, executing a PayPal deposit at a New Jersey online casino is as simple as choosing the amount of money you would like to deposit, entering username and password, and your deposit will be finished.
Apart from waiting a few seconds for everything to process, your deposit is as immediate as can be. The immediacy of depositing via PayPal is one of the reasons it is such a beloved method of deposit.
In addition to being able to deposit, you are often able to cash out winnings via PayPal as well. When it comes to cashing out, the process is not much difficult than what it is when you deposit.
Why Use PayPal?
Being that credit card deposits exist, and almost all of us own credit cards, you might wonder why one would opt to use PayPal instead. The reason all comes down to safety, security, and the amount of personal information you are asked (forced) to give away.
When it comes to credit card deposits, you are forced to give the online casino in question all of your personal, financial information. For many, this presents a problem as they are wary that giving away credit card info will inevitably lead to that same info being stolen. While we must say that this is almost never a reality for an overwhelming majority of players, it is still a very valid concern in this day in age. With credit card information being stolen all the time in conjunction with a general distrust of anything having to do with giving out financial information.
For people who have these concerns, the idea of PayPal is a great one because PayPal acts as a middle man between the casino and your financial info. This way you can deposit as much money you would like at a New Jersey online casino without dishing out even as much as your name.
PayPal also boasts customer service that is available at all hours of the day and night. So if you ever think that there is a discrepancy with a deposit which you have made, you can utilize their helpful customer service department to get to the bottom of it. With all of this being said, it is important to reiterate that, 9.9 times out of 10, you will have absolutely no issues whatsoever when it comes to making deposits or executing withdrawals.
As far as fees are concerned, they are an unfortunate reality of the online casino world. No matter what method of deposit you choose to make use of, there are going to be fees. In general, the fees levied against PayPal deposits are fair and do not stray too far from what most would refer to as normal. On occasion, fees will be waived, but this is something that typically only happens for new players.
When it comes down to it, there are few more trustworthy methods of banking at online casinos than PayPal. Having a track record that extends back nearly 20 years, PayPal has been around the block once or twice and really knows what it is doing. With years of experience and millions of happy users, it is no surprise that PayPal is the preferred deposit method of so many gamblers at New Jersey online casinos.